A Tour of University of Maryland Special Collections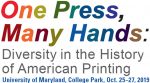 Fri., Oct. 25 | Conference participants toured the Special Collections and University Archives in Hornbake Library at the University of Maryland, College Park. Visitors were greeted by Douglas McElrath, Director, and Amber Kohl, Curator of Literature and Rare Books. In the entry to the reading room, an exhibition case full of bindings by Margaret Armstrong provided an opportunity to see a range of work by a female American binder. Another case was filled with striking artist's books featuring the alphabet. One book had been made by Lauren Emeritz of Abstract Orange. Coincidentally, Lauren was part of the APHA group and she was delighted to see her work on display.
After providing background information about the collections,  which feature the history of Maryland, the history of the American labor movement, and the history of American broadcasting, Douglas and Amber escorted conference attendees into the Maryland Room, a spacious and well-appointed reading room with adjacent exhibition space. An eye-catching feature of the reading room was a wall-mounted large-scale birds-eye perspective map of the city of Baltimore, printed via lithography by Sachse & Co. in 1869. Another feature of the reading room were televisions and radios from the 1940s and 1950s that had been placed alongside other furniture in the Maryland Room. These relate to the history of media materials in the collection.
The Special Collections and University Archives staff had prepared a rich array of materials related to the theme of the conference that had been placed on tables for visitors to see. These items included early printed slave narratives and a slave almanac. Materials from the literature and fine press collection were also on display and visitors were able to touch books from the Hogarth Press, the Arion Press, and the Sutton Hoo Press. As visitors examined items, they chatted with each other and asked Douglas and Amber questions. The number of items available for examination and the time allotted to examine them were nicely balanced and allowed for a rich and stimulating visit which set the stage for many of the themes that other conference sessions and activities addressed.