A small detail near the end of the production of our annual calendar. Buy one. Support our efforts. 
---
CHAPTER & AREA EVENTS OF INTEREST TO
CHESAPEAKE CHAPTER MEMBERS
 2018 Chesapeake Chapter calendar
$25 and free shipping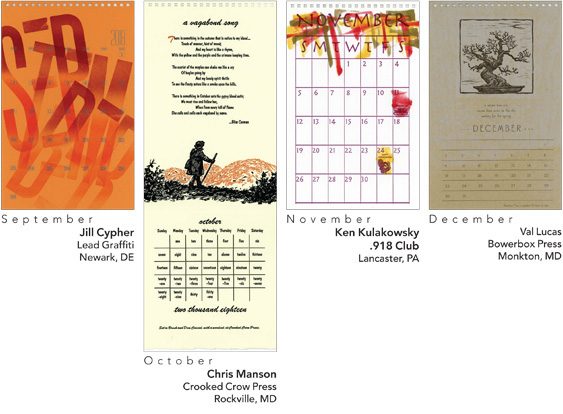 Pyramid Atlantic Art Center
4318 Gallatin Street, Hyattsville, MD 20781
10 x 10 Invitational Exhibition
on through December 17, 2017
PAAC presents the 3rd Annual 10 x 10 Invitational, exhibiting artworks by over 85 regional and national artists. Just in time for original holiday gifts, each artwork can be purchased for $50 and taken home the day of, with all proceeds benefiting Pyramid's core programs. APHA / Chesapeake members that I know of are Lauren Emeritz and Val Lucas.
 2017 Denker Fellows Symposium
Wednesday, November 15th, at 2:00 p.m.
Library of Congress, Jefferson Building
2nd Floor, Rosenwald Room (Room LJ205)

The 2017 Denker Fellows Symposium is shaping up as an exciting advancement of ideas and projects and will be held, as in past years, at the Library of Congress, Jefferson Building, 2nd Floor, Rosenwald Room (Room LJ205).
The fellowships are a memorial to Michael P. Denker, an active and beloved past president of the Chesapeake Chapter and an enthusiastic and accomplished letterpress printer who died in 2013. The Denker Fellowship has been established to honor and celebrate Mike's commitment to generating interest in printing and printing history, and his great devotion to the Chesapeake Chapter. The sale of our Chapter's annual calendar pays for the memberships of these young members, adding diversity to all of our experiences.
The presentations will cover a broad range of topics, and we are fortunate to have a preview of some of them:
Juss DiSciullo
Juss will talk about using 3D printing in letterpress, incorporating information from a project she worked on last fall called the Printed Press. This project involved using a 3D printer to create type and a small press.
Seth Gottlieb
If all goes according to plan, Seth will be doing his presentation via Skype from Manchester UK, where he is currently pursuing graduate studies at the University of Manchester. Seth is finalizing his presentation topic.
Alice Keith
"For the past year, I have immersed myself in the world of book printing in 16th century Lyon, France. This seed of interest was planted by two of my French courses at Roanoke College, one on Henry IV of France and one on Renaissance Literature. When the time came to propose my Honors Project, I wanted to combine my interests in French, history, drawing, and writing. Thus was born my project, tentatively titled 'Stories and Histories from Abroad: The Adventures of a Curious Mind.'
"Between an internship at the Rare Book and Special Collections Division at the Library of Congress and a study abroad semester in Lyon, France, I had incredible opportunities for hands-on learning. I saw books written and printed by the figures I learned about and wandered the famous Rue Mercière in Lyon searching for former print shops. Currently, I am working on my end product — a body of creative written and drawn works inspired by my research and experiences during this project."
Maeve McCool
Maeve will present "Methods of Memory: Contemporary Artist Books that Address the Past."
Book artists approach the subject of memory with different subject matters and techniques versus other mediums such as film and fine art. In the work of fine artists like Doris Salcedo, memory is abstracted and represents a collective social memory, instead of a personal narrative. Robert Rauschenberg pieces together the feeling of memory with physical objects without any intention of creating a narrative or storyline (eg. Bed, 1955). In the film, the subject of memory has been looked at countless ways but generally with scientific or psychological approaches, representing memory as a mystery of the mind (eg. Gondry, Eternal Sunshine of the Spotless Mind, 2004).
Artist books, however, are almost always looking at personal memory or the specific experiences of an individual. The books that will be focused on in this lecture are: "I Can Make You Love Me" by Kathryn Immonen, "Shared Memories" by Lori Spencer, "Wrongly Bodied Two" by Clarissa Sligh, "B-11226, Fifty Years of Silence: Eugene Kellner's Story" by Tatana Kellner, and "Unspoken: Letters to Resident" by Jahjehan Bath Ives. These five books consider different aspects of memory ranging from war, death, childhood, love, and history — but all are reliant on personal experiences or relations from the artists' lives. These artists use combined images, careful word choice, and text, and the intimacy of a physical and hand-held object to experience memory in a particular and unique manner. In this lecture, these various works will be looked at and their methods and utility of memory will be discussed.
Mel Parada
We are very pleased that 2016 Denker Fellow Mel Parada, who was studying in Germany at the time of last year's Denker Fellows Symposium, and therefore unable to attend, will be with us this year to give his talk:
"My presentation will cover the Dutch print trade during the mid 16th – early 17th century. The presentation will focus on the research findings centered around Dutch printmakers living and working out of the city of Haarlem in northern Holland. These specific printmakers and publishers were responsible for ushering in the famed Dutch landscape etchings. This time period in Haarlem has been historically referenced as one of Holland's great renaissance periods, recognized for attracting many fine artists, printmakers, and writers to live within the city limits. This burgeoning artistic community helped fuel and inspire many of the new artistic styles being published by the regions publishers and crafted by its skilled printmakers. Haarlem's proximity to the country's famed dunes, coastline, majestic waterways, iconic windmills, and wide flat farmlands provided the perfect backdrop for this new genre of prints which captivated the world and gave new national pride to the printmakers who made them as well as the Dutch who owned them."
Please plan to join your fellow Chesapeake Chapter members, friends, and guests for what will be an informative and enjoyable afternoon at the Library of Congress.