Travel your cursor  to the bottom of this page, where we will show past creative work printed by our members for the Chapter.

Chesapeake Chapter Notes
Chesapeake Chapter Notes is emailed monthly to members and friends of the Chesapeake Chapter of the American Printing History Association. Contributions are welcome and can be sent to George Barnum, Chapter Secretary.
2021. 2021 Officer's Report. 
2022. January. 

Nearly a dozen letterpress printers
of the Chesapeake Chapter of APHA 
participated in a print exchange. Check it out.
Click to renew your APHA membership

Are you social media savvy?
Hashtag your in progress or completed works using the hashtag #aphachesapeake.
Link to it and see what's happening.
POSTPONED TO A POST-VIRUS DATE
Conestoga Press & Ephrata Cloister Printing Office
Ephrata, Pennsylvania has a rich history of printing, starting with the largest book printed in the colonies, the Martyrs Mirror, which was printed at the Ephrata Cloister in the 1740s. According to Wikipedia, it took 15 men three years to finish the 1,512 page book. Next to the Bible, the Martyrs Mirror has historically held the most significant and prominent place in Amish and Mennonite homes.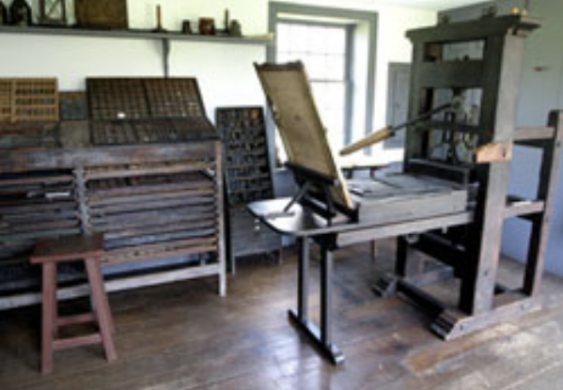 Join us to visit this state historical site with its 1803 Ouram wooden press.
APHA member Conestoga Press, located just up the street from the Ephrata Cloister, will host participants as they print on an 1850 wrought iron Bronstrup press using type from that period. Conestoga Press is part of the Historical Society of the Cocalico Valley where we'll also be able to tour their museum.
With a micro-brewery across the street, a printer at Conestoga Press who also brews press-named beers, and a printing themed restaurant just up the street we're having a hard time deciding on lunch, but we'll come up with something special.
The activities are planned to begin in Ephrata at 10:00 a.m. and finish between 3:00 and 4:00 p.m. depending on the final agenda. Since it would be best to keep the size of our group to about a dozen people please email Chris Sweterlitsch as soon as possible to claim a spot. Chris will also be facilitating carpooling, so please let him know if you need, or can provide a ride.

⬆
     2008 Chesapeake Chapter Roster
     Roland Hoover : Pembroke Press : Bethesda, Maryland
⬆
     2008 Chesapeake Chapter Roster
     Roland Hoover : Pembroke Press : Bethesda, MarylandBelow :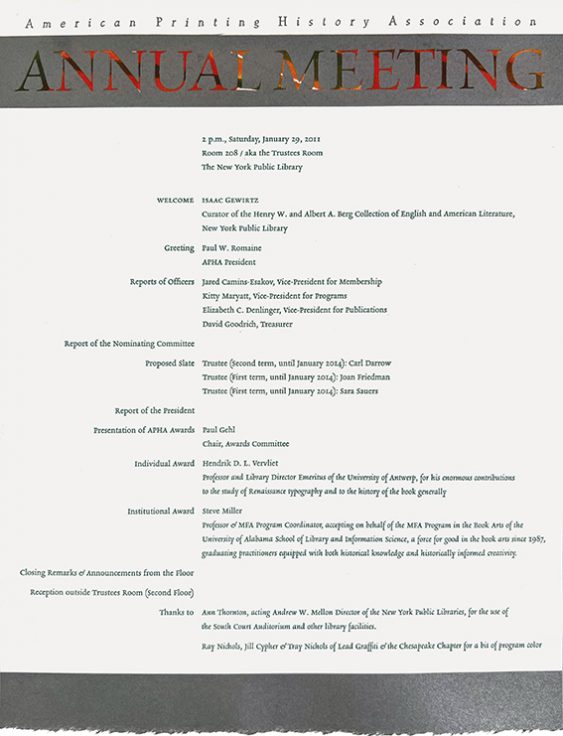 ⬆
     Program for the APHA national meeting / January 2011
     Ray Nichols & Jill Cypher : Lead Graffiti : Newark, Delaware
A co-operative print exchange by chapter members. Click to view.
Annual Chesapeake Chapter calendars. 2022. 2021. 2020. 2019. 2017. 2016. Click to view.