"Mark Squared" – Mark Samuels Lasner (right) enjoys a moment of calm with
Mark Dimunation of the Library of Congress at the MSL Collection Symposium. See the story here. 
---
CHAPTER & AREA EVENTS OF INTEREST TO
CHESAPEAKE CHAPTER MEMBERS
 2018 Chesapeake Chapter calendar
$25 and free shipping
For some reason I cannot get new images to upload. There are a couple of typos in the date with various months. Bear with me while I figure out why it won't update.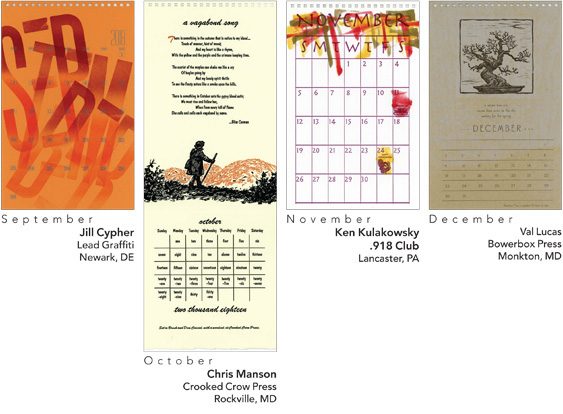 Lindsay Schmittle & The Printed Walk
A thru-hike of the Appalachian Trail 
We have received a report from Chapter member Lindsay Schmittle concerning her Kickstarter project The Printed Walk. As of the middle of June, Lindsay into her fifth month of  her walk along the Appalachian Trail, that she started in Georgia. As of August 1, she is approaching the southern border of Vermont and the 1500th mile of 22oo. As of August 24 she had crossed mile 1933 of 2190.
After the completion of her hike, Lindsay will create a letterpress printed chronicle of her walk, consisting of 22 art prints, one for each 100 miles of the trip. Lindsay writes: "As I hike, I gather inspiration from color combinations, landscape compositions, sounds of the woods and wild acts of life from creatures, plant life, and weather. I've been focusing on the details–the happenings one may not notice on a quick day hike. I want to take these details and bring them to the center stage with the 22 prints because these little details of life are what makes nature so magical."
Chapter members Ray Nichols & Jill Cypher drove to Harper's Ferry (mile marker 1,023), where Lindsay called when she was 4 miles out. Ray & Jill walked out to meet here (we might add that everything from Harper's Ferry is uphill.
They supplied Lindsay with a couple of good restaurant meals and a nice hotel room, complete with shower and washing machine (both needed). She recently reporting bear and rattlesnake sightings. We're sure those will show up in her posters somehow.
You can click here to follow her Instagram account. Her trek is expected to last until about the middle of September.
 Pyramid Atlantic Social Evening
Thursday evening, October 12th
4318 Gallatin Street, Hyattsville, Maryland
Pyramid Atlantic Art Center will be hosting the second annual book, print, and paper gathering of DC area print and book-related groups, at 4318 Gallatin Street, Hyattsville, MD. The groups include APHA Chesapeake Chapter, College Book Art Association, Hand Papermaking, Potomac Chapter of the Guild of Book Workers, Pyramid Atlantic Art Center, and the Washington Rare Book Group.
Come for this gathering of artisans and artists, book lovers, and type geeks for an evening of networking and fun. Enjoy the expanded gallery space of Pyramid Atlantic while learning about upcoming events for your favorite organizations. Light refreshments will be served.
Do not know the time at the moment.
Paul Shaw Urban Lettering Walk
Sunday, October 15th
11:00 a.m. to 2:00 p.m.
We are pleased to announce that noted designer, design scholar, and educator Paul Shaw will lead an "urban lettering walk" of Baltimore environs.
Mr. Shaw has led numerous walks in the past and, as his website states, they "[seek] out beautiful, odd and intriguing examples of lettering in the streetscapes of a single city." The tours embrace a wide range of lettering regarding style, technique, and materials: inscriptions carved or cast in stone, painted "ghost" signs on brick walls, decaying neon signs, graffiti and more.
Additional information will be passed along as it becomes available.
APHA Chesapeake Wayzgoose and Meeting
Saturday, November 4th
Crooked Crow Press,
508 Mannakee Street, Rockville, MD
We are pleased to announce that, as in past years, Chris and Pat Manson have very generously agreed to host the Chapter's annual meeting and Wayzgoose at their house in Rockville, MD.
The Chapter's annual meeting will open with a potluck lunch and refreshments will be available, and Chapter calendars will be available for purchase. Members will bring items they have produced and acquired to show. Be sure to plan to attend since this is the best-attended Chapter event of the year and provides the opportunity to meet, converse with, and enjoy your fellow members.
 Hamilton Wood Type Wayzgoose
November 3 – 5
Two Rivers, Wisconsin
Patterson Clark, Jill Cypher and Ray Nichols will be speaking and leading workshops at the annual Hamilton Wood Type Museum Wayzgoose.