Chesapeake Chapter 2023 calendar
Each year since 2012 the printing faction of the Chesapeake Chapter has produced a calendar using a variety of printing techniques, mostly centered around letterpress. These efforts often use the opportunity to experiment with new techniques & new layouts of both printing & typography. The calendars are sold with the funds supporting up to 10 student memberships for Denker Fellows each year, as well as support for monthly speakers, trips & other projects.
The online the price is $25 which includes shipping. These make great presents and support an important cause. A link to order will be available soon.
29,120 small squares cut out by hand with little tiny elementary school scissors along with 1,960 small circles actually punched out with sharpened plastic straws from McDonalds. Seriously. I mean it. Q.
 Cover 2023
Chris Manson | Crooked Crow Press | Rockville, MD 
Handset metal type in runs
 January 2023
Randy Newcomer | Conestoga Press | Ephreta, PA 
Copperplate with handset metal type in 2 runs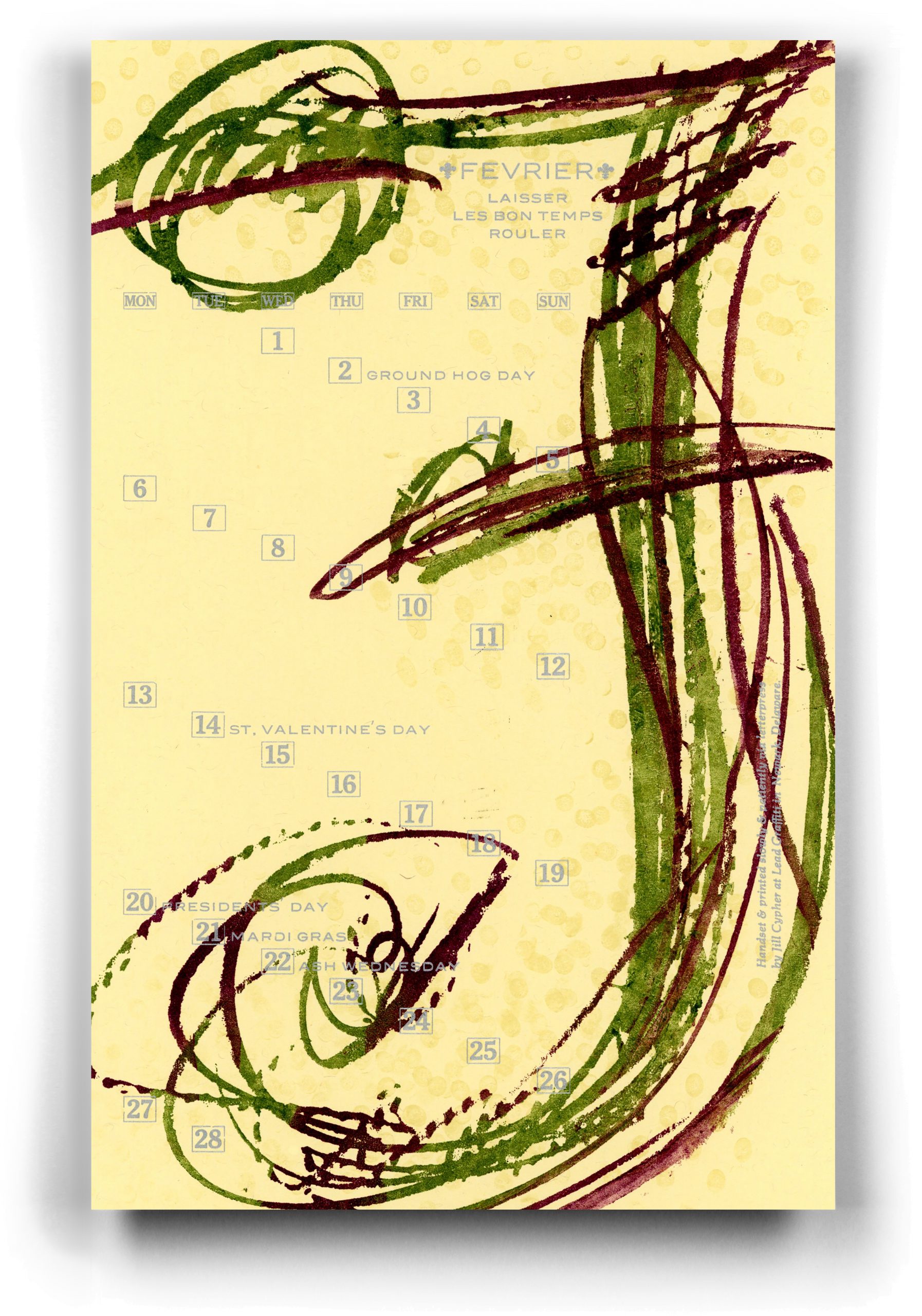 February 2023
Jill Cypher | Lead Graffiti | Newark, DE
Handset metal type and photopolymer in 2 colors
 March 2023
Lauren Emeritz | Abstract Orange Press | Washington, DC
Handset wood & metal type in 4 runs
 April 2023
Ray Nichols | Lead Graffiti | Newark, DE
Photopolymer in 2 colors with hand-stamping reduction in 2 runs

 May 2022
Ken Kulakowsky | The .918 Club | Lancaster, PA
In handset metal type and photopolymer in 2 runs
 June 2023
Casey Smith | Own Goal Press | Wilmington, DE
Handset metal and wood type in 2 runs
 July 2023
Cover | Chris Manson | Crooked Crow Press | Rockville, MD 
Handset metal type and wood cut in 3 runs
 August 2022
Don Starr | Glyph Pressroom | Havre de Grace, MD
Copperplate & handset metal type
 September 2023
Jody Cabezas |  | Washington, DC
Handprinted woodblock and handset metal type in 2 runs
 October 2023
Tatiana Shukhin | Windhorse Press | Takoma Park, MD
Linocut and metal type in 4 runs
 November 2023
Val Lucas | Bowerbox Press | Monkton, MD
Wood texture, copperplate & handset metal type in 3 runs
 December 2023
Sarah Matthews | 
Handset wood & metal type in 2 runs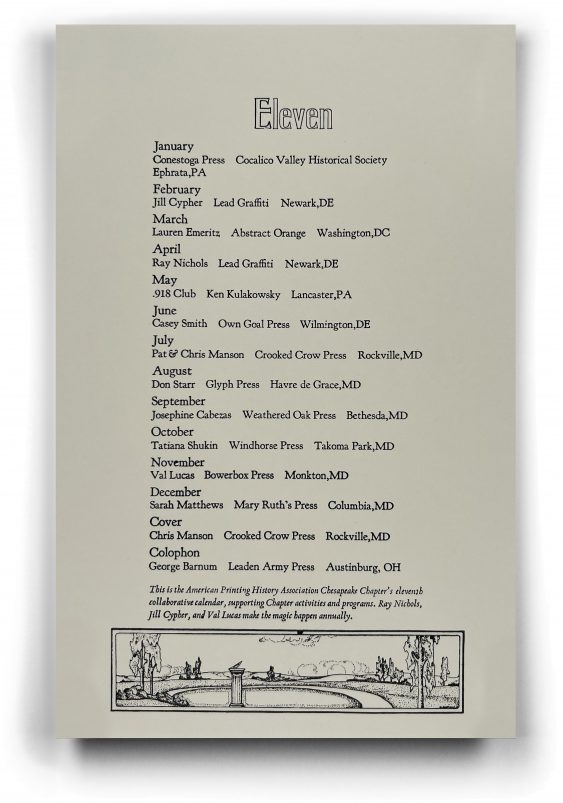 Colophon 2022
George Barnum | Leaden Army Press | Austinberg, OH
Copperplate & handset metal type in 1 run