Pyramid Atlantic Tour & Letterpress Workshop
---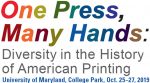 Sun., Oct. 27  | Pyramid Atlantic is located in the Gateway Arts District in Hyattsville, Maryland.  It occupies a space that has had several previous uses, including a church, arcade and duckpin bowling alley.
Our tour began on the ground floor.  There is a small shop as you enter, which then transitions into an open floor plan, divided into the following studio spaces: letterpress, bindery, and printmaking.  Down the hall, there are tables for classes and separate rooms for papermaking, screen printing, a darkroom, as well as separate office-type studios for artists. The second floor also has offices and a small library, though the majority of the space is used as a gallery for artists to exhibit their work.  You can also see some elements of the building's history preserved here in some of the architectural elements of the space.
After our tour, we reconvened in the letterpress studio for our workshop where we created posters using pressure printing and traditional relief printing on a proofing press.  We first traced outlines of our hands, cut them out and then glued them onto paper to create a form. This was then sandwiched between a top sheet and several packing sheets and run through one of the two Vandercook presses the center owns.  
We used a light grey ink and linoleum block base to create a ghosting effect with our handprints.  This print could then be run through the press multiple times, rotating and/or switching out different hand forms to create varied layers.  In the final process, we hand-inked pre-set wood type and ran our print one last time on a showcard-style proofing press (similar to an old credit card reader) to add our text.
Our final result was a lovely memento and souvenir of the conference and our visit.  Our thanks to the volunteers and staff at Pyramid Atlantic for hosting us!