APHA's Chesapeake Chapter is an active group of collectors, letterpress printers, & scholors sponsoring monthly lectures, field trips and other opportunities  to connect on an informal basis. Generally made up of members from within 90 miles of Washington, DC, the Chapter enjoys close-by access to a variety of major APHA-related collections, such as the Library of Congress, The Folger Library & the Smithsonian, along with a large number of other museums and libraries with important book and printing history holdings.     
The Chapter also has an active group of letterpress printers with a variety of equipment and varied missions, producing a variety of work from ephemera and keepsakes to  posters and books. Often one of the printing members will produce a keepsake for those attending the events.
The Chesapeake Chapter Program Committee continues to work on a great year of Chapter programs. On the horizon are talks at the Library of Congress and the Historical Society of DC on early Washington printers, a visit to the Washington Print Club Biennial Show, a talk on artist's books at the National Museum of Women in the Arts, a cooperative event with the Potomac Chapter of the Guild of Book Workers, an afternoon of presentations by our Denker Fellows, and a day in Delaware. Stay tuned for details.
We may eventually get most of our Chapter's past history transferred to this main APHA site, but in the meantime you can visit the Chesapeake Chapter's website.
---
UPCOMING EVENTS
---
Tuesday, June 21, 2014, 1:45 pm
---
An American in London: Whistler and the Thames"
William Morris Society special tour with Lee Glazer
---
Sponsored by the William Morris Society in the United States
---
Arthur M. Sackler Gallery
Smithsonian Institution
1050 Independence Ave SW
Washington DC 20013
Meet for lunch 12.45 p.m. at the Castle Cafe, Smithsonian Castle
James McNeill Whistler occupies a pivotal position between cultures and artistic traditions of East and West. American-born, French-trained, and London-based, he was an artist with a truly cosmopolitan background. After study in Paris, he settled in London in 1859. He worked along the docks, etching and painting the bridges, old and new, that spanned the river Thames. Living within sight of the river, Whistler recorded the changes wrought by industrialization: changing vistas, new landmarks, even the dense atmosphere of smog mingled with gaslight. Over the years his subject matter, techniques, and compositions evolved with his sites. He sought to convey the essence of the river—the lifeblood of the city–ebbing and flowing before his perceptive eyes and caught by his skillful brush.
Lee Glazer, Associate Curator of American Art, has lectured and published on a wide range of art historical topics, including nineteenth-century popular illustration and song, the artist Romare Bearden, and James McNeill Whistler and American aestheticism. She recently reinstalled the Peacock Room to its appearance in 1908, when its shelves were filled with Asian ceramics collected and arranged by museum founder Charles Lang Freer. Since coming to the Freer and Sackler in 2007, Dr. Glazer has organized a series of thematic installations including watercolors by Winslow Homer, seascapes by American artist Dwight Tryon and Japanese photographer Hiroshi Sugimoto, and nocturnes on paper by Whistler. She is the co-editor of "James McNeill Whistler in Context" (2008) and "East West Interchanges in American Art" (2012), and she recently worked with colleagues at Wayne State University on "The Story of the Beautiful: Freer, Whistler and their Points of Contact," an interactive web resource devoted to American art at the Freer.
Free to William Morris Society of the United States members
A $10 donation for non-members is suggested
For more details and to RSVP contact Margaretta Frederick, (302) 351-8518
Open to the public.  A selection of works from the Library's Artist Book Collections will be on display.
---
APHA Chesapeake Chapter members are cordially invited to a reception for Chapter member Erik Delfino, who recently retired from the Library of Congress.
Tuesday, June 24, 2014 at 1:00 – 3:00 p.m.
West Dining Room
Madison Building
Library of Congress
Light refreshments will be served
Donna Scanlon (dscanlon@loc.gov; (202-707-6235))
Kindly R.S.V.P by June 19th
---
Saturday, July 19, 2014, time to be decided
---
A visit to the University of Maryland Libraries in College Park
APHA / Chesapeake Chapter members will visit with Doug McElrath, the head of
Special Collections. Doug will be showing us items from two collections:
1) Items related to the type designed W.A. Dwiggins.
2) Typefounders material from the collection of Maurice Annenberg.
3) And there's a possibility of a special added attraction (which will be announced later).
RSVP to George Barnum for this event.
---
MOST  RECENT EVENT SHOWN BELOW
You can choose links to other past events listed in the sidebar to the right.
---
A visit to the Museum of Industry in Baltimore, MD
April 19, 2014
---
 16 chapter members gathered at the Museum of Industry for a general tour of the Museum and a focused visit to the area devoted to printing. The meeting was suggested by Val Lucas and carried out by George Barnum.
Apologies to everyone who went in the first group as they didn't get into any of Ray's photos.
John gave us a nice walk through of some of the important early industries. In the instance above he is showing us how to shuck an oyster. In the early days the tonnage of oysters that came out of Baltimore was staggering.
Here john explains the canning industry. Hard to imagine how things worked in the early days. It is easy to sit around today and talk about how hard people work. They were in a completely different league back in the 1800s.
The garment industry went through some radical improvements once electricity was available. Just to John's right is a cutter that would just slide along and cut dozens of layers of cloth at one time which was a great change from a 2-pound pair of scissors.
This was taken in the machining room. Steam and electricity caused an explosion on manufacturing potential.
Then it was over to the print shop which is what all of us had come to see.
We got a nice explanation of how job cases worked, upper and lower case, etc.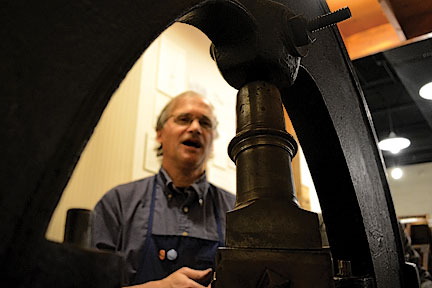 A moment of artiness caught our guide through the 1830s acorn iron handpress.
A nice view of the acorn press. Guess where it it got that name.
Showing how the tympan and frisket work
A nice view through the acorn press to the workings of the frisket and tympan.
Looking over the printed sheet. Nicely done.
I suspect having a group like ours in the house is fun for the docents that work in the shop. There was a constant stream of intelligent questions.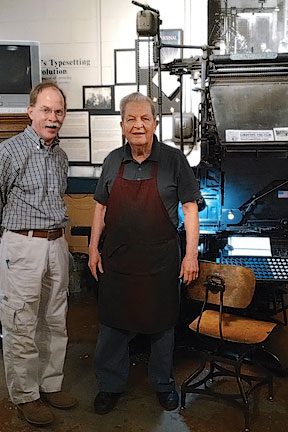 George Barnum and Ray Loomis standing at the Museum's Linotype.
Our next stop, show above, was going to be with Ray Loomis and a 1936 Linotype. The Linotype, which cause an explosion of inforamation and communication, was invented by Otto Merganthaler in Baltimore in 1886.
Chris Manson and Chapter President Val Williams sharing a moment.
This is a nice view of the 1936 Linotype they use in their demonstrations. Definitely a sweet piece of equipment.
A nice view of our group in the print shop.
Ray Nichols sitting at the keyboard listening to Ray explain the photo on the wall of the main Baltimore newspaper. You can see it in the background five pictures above this.
Ray showing Ray the mechanism for how the keys work to get the Linotype matrices back into the correct space in the magazines.
Val Lucas taking a run at casting a line of 'hot metal' type.
Stan Nelson adds some information to the printing process on this handfed newspaper press that was also hand powered. Ugh. That would make for a long day.
Kevin, one of the Mike Denker fellows, taking a turn at the Linotype with a bunch of inquisitive eyes checking out the process.
A stereotype plate for printing the Baltimore newspaper.
This is a mat made from wood pulp (I think) that would be used as a mold for making one of the stereotypes.
Jill Cypher look at stamps celebrating important people in printing history. Otto Merganthaler is in the lower left.
Jill Cypher and Val Lucas having a conversation.
I think it was a good day for everyone
Photos by Ray Nichols & Jill Cypher.
---