David C. Driskell Center Tour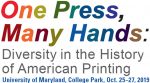 Fri., Oct. 25 | On this afternoon, an intimate group of APHA members gathered at the front of the David C. Driskell Center for the Study of the Visual Arts and Culture of African Americans and the African Diaspora, for an introduction to the center, its mission, and a tour of the current exhibition.
The group was met by Dorit Yaron, the gallery's Deputy Director and David the archivist. The center is named in honor of the artist and leading authority on African American Art David C. Driskell and had its beginning in 1976 when Mr. Driskell curated a groundbreaking exhibition titled "Two Centuries of Black American Art: 1750–1950." The next year he joined the Art faculty at University of Maryland, College Park. Although now retired, he still maintains an active presence in the art world and at UMCP.
The current exhibition in the main gallery is "[Un]Common Collection," and will remain up until November 22, 2019. This show consists of sixty-four items by African American artists on loan by fifteen different collectors. Due to the time constraint of the tour, a maximum of one-hour, Ms. Yaron focused her talk on those items produced by some form of printing technique. As we walked the gallery, beginning on our right, the works displayed were organized from figurative, to portraiture, to landscape. A few of the items Ms. Yaron discussed included Jacob Lawrence's etching "Five Builders with Tool Box," Elizabeth Catlett's serigraph "Francisco," and Romare Bearden's lithograph "Louisiana Serenade."
When the group arrived at David C. Driskell's own work, a textured serigraph titled "Accent of Autumn" she encouraged each of us to look close up at the three-dimensional effect of his work. Off the main gallery was a small collection of work under the title of "Ken's Room" and dedicated to a recently passed exhibition director. Included here was a linocut by Charles White, "My God is a Rock." With a few minutes to spare, we were invited to the vault to see many wonders not yet on display. Newly acquired items and additional items by the various artists included in [Un] Common were able to be viewed. Lastly, Ms. Yaron encouraged those of us with scholarship interests in Driskell and or African American Art to consider researching in the David C. Driskell collection of papers and ephemera that are also housed at the center. The Driskell Center is truly a gem to become familiar with. If you missed this show and are not able to catch it before it closes, the upcoming spring show will be "Romare Bearden: Artist as Activist & Visionary" from January 30–Friday, May 1, 2020. Mark your calendars.