Chesapeake Chapter / April 19, 2014 / Museum of Industry, Baltimore
---
 16 chapter members gathered at the Museum of Industry for a general tour of the Museum and a focused visit to the area devoted to printing. The meeting was suggested by Val Lucas and carried out by George Barnum.
Apologies to everyone who went in the first group as they didn't get into any of Ray's photos.
Then it was over to the print shop which is what all of us had come to see.
A stereotype plate for printing the Baltimore newspaper.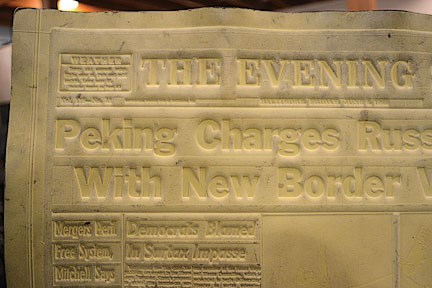 This is a mat made from wood pulp (I think) that would be used as a mold for making one of the stereotypes.
Jill Cypher look at stamps celebrating important people in printing history. Otto Merganthaler is in the lower left.
Jill Cypher and Val Lucas having a conversation.
I think it was a good day for everyone
Photos by Ray Nichols & Jill Cypher.